BlingToGo, personality for your crutches, was created by inventor Abby Appelt when she found herself on crutches for months at a time. Abby thought that the boring grey metal could use some personality – and Bling was born! She soon found out that everywhere she went with her new "blinged" crutches she received positive feedback. Abby said "It was such an emotional boost in a particularly trying circumstance!"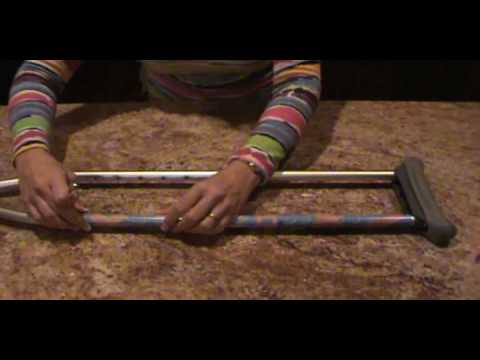 BlingToGo (www.getblingtogo.com ) is a self-adhesive full wrap decorative decal for crutches, canes, walkers, bed rails and IV poles. It is a medical-grade product that can be fully sanitized hundreds of times and removes 100% residue free. There 25+ designs, or you can customize your own BlingToGo.
For more information on BlingToGo or Abby please visit www.getblingtogo.comor email Rachel@PeacockPublicity.com
From the BlingToGo Website
The conception of BlingToGo occurred during a long enduring "relationship" between our company President, Abby Appelt, and a set of non-descript metal crutches. Abby spent nine long months in this relationship, resulting in an entirely different type of birth: BlingToGo! The boring grey metal was an accessory she had to "wear" everyday! Being a creative, solution-oriented person, she decided it was time to jazz-it-up! Abby says, "When I wore my crutch decor I had people stop me, literally everywhere I went, complimenting me on how awesome my crutches were!"

Everyday we express ourselves through bumper stickers, slogans and graphic art t-shirts, and even through the labels on our clothing. We seem to have no problems with providing companies with free advertising and Brand recognition. So why not express ourselves on our 'necessary accessory'? Whether you are on crutches, using a cane or walker, everyone notices: so give them something to really look at!

As a company, BlingToGo offers a unique way to "express your health." As an organization, we provide real-time support and offer hope to the less fortunate through our matching charitable contributions programs.

With each purchase you are giving back to those in need of financial and/or emotional support and camaraderie. You are also supporting our scholarship programs, as well as the brave men and women of our active and retired United States Military!
Post Footer automatically generated by Add Post Footer Plugin for wordpress.